- (Thesis Exploration)
Note: – (pronounced however the user may interpret it) serves to epitomize the deep-rooted essence of what lies at the core of all themes, subjects, and objects deemed as 'controversial' due to the fact that it is so distinct, yet so incredibly malleable in its interpretation. The name itself should be ambiguous enough to allow users to interact within a dialogue of how it should be used, even though the name truly has no definite pronunciation or placement.
This piece is a thesis exploration which serves to explore the relationship between marginalized artists and their respective works, which may be deemed as "controversial" by societal groups.
Within its purest form, art is a reflection of its creator. Not only in the essence of its physicality, but similarly in essence of its fluidity, rigidity, malleability, and emotional quality. However, these reflections, projections, and emotional interpretations of a work's creator are not always well-received by viewers. I chose to pursue this thesis topic in order to bridge a gap within our society's creative community, and to encourage individuals to view and perceive experiences from the eyes of those around them who may or may not have shared similar experiences throughout their lifetimes. Through investigating the unique and personal interactions that take place between creators, artworks, and viewers, it becomes evident that complex design elements and principles play a crucial role within the ways in which we
interpret and react to subject matter. By exploring the relationship that ties an artwork to its respective environment, we can address the ways in which interiors
(and interior design in general) holds the ability to enhance and/or diminish our individualistic perceptions.
As the Arts Commons has recently been called out for censoring trans artwork within Calgary's artist-run spaces, the Marion Nicoll Gallery, Stride Gallery, the New Gallery, Truck Contemporary Art, and Untitled art society have chosen to terminate their correlation with the Calgary Arts Commons. As we work to become a universally inclusive society that permits equal experiences and opportunities for all users, at what cost is our city willing to terminate access for those who are perceived as 'different' within our societal bounds (in terms of the social boundaries of 'normality,' which still cease to exist in distinct terms). How can we design and provide creative spaces and outlets for those who are dismissed within the world of artistry due to their identity, expression, and subject matter?
My thesis question stands as:
How can the application of design elements and principles destigmatize the collection of factors that deem an artwork (and its respective creator) as controversial?
'Controversial' works are crucial to the mental and emotional functioning of society through the ways in which they provide us with the skillset that we need in order to form and defend opinions, beliefs, and experiences, and it is necessary that the essence of what classifies a work as 'controversial' has a just disposition, rather than a censorship claim based on its 'taboo' nature, in both interior and exterior settings.
My thesis statement stands as:
In order to counteract negative societal bias in response to 'controversial' artworks (and to ensure that all individuals have right to their own voice), design elements and principles must be applied and articulated in a method which liberates creators politically, emotionally, and ideologically, while simultaneously bridging the misinterpretation that takes place between creators, their artworks, and their respective viewers.
My concept statement stands as:
Evoking interchangeable boundaries through the continuous shift of energy within juxtaposed spectrums
Light versus dark,
Mass versus void,
Silence versus sound,
Me versus you.
AutoCAD, SketchUp, Enscape, Photoshop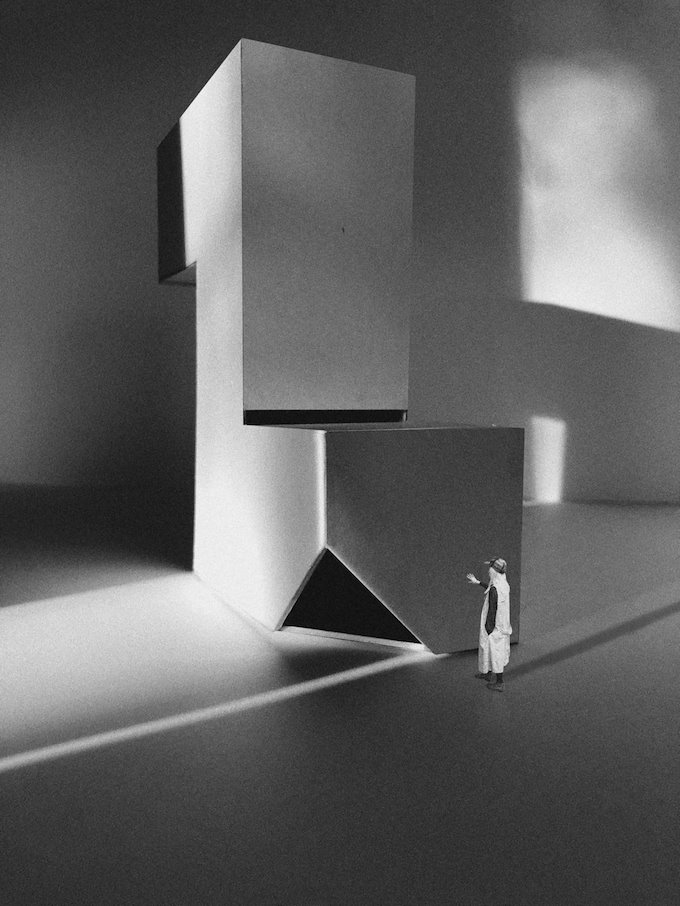 Concept Model – Latitudinal View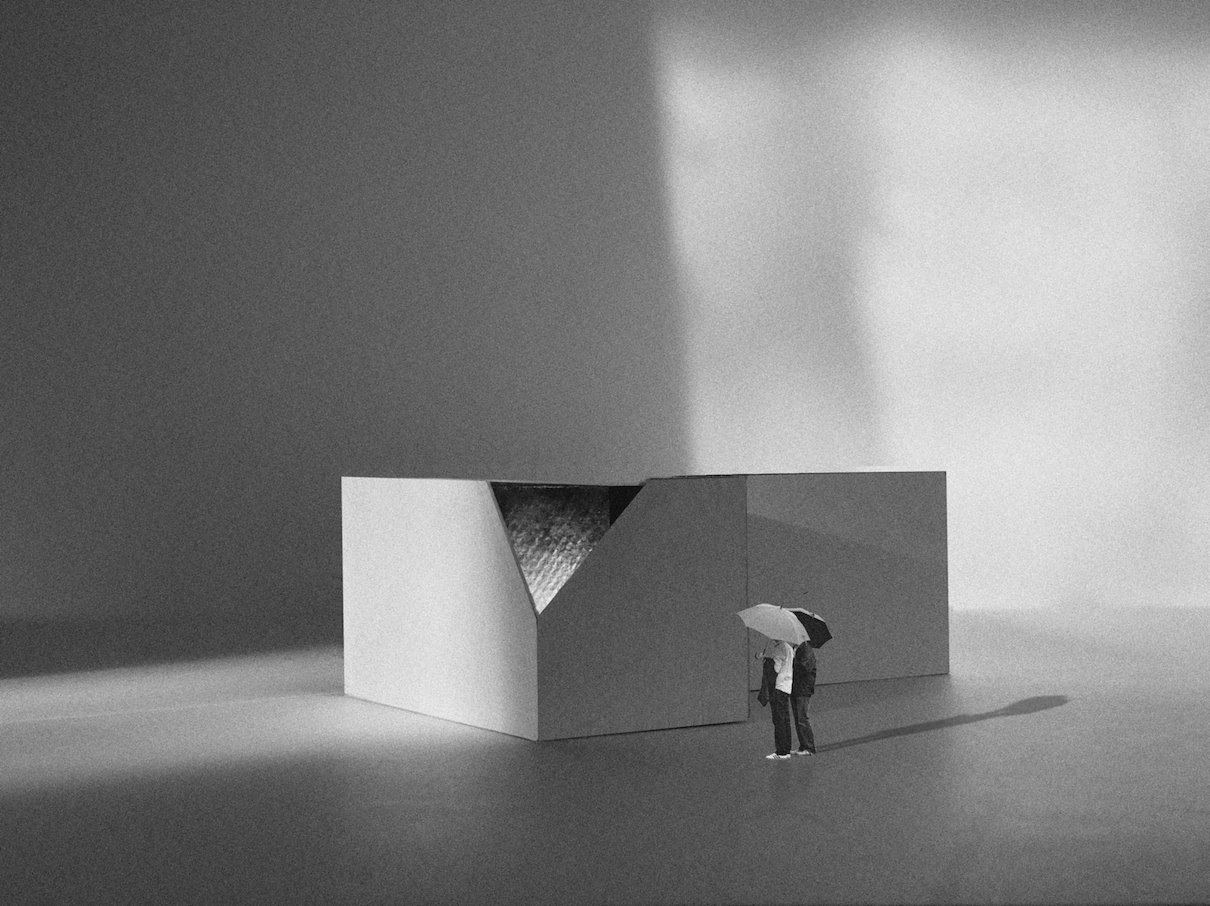 Concept Model – Longitudinal View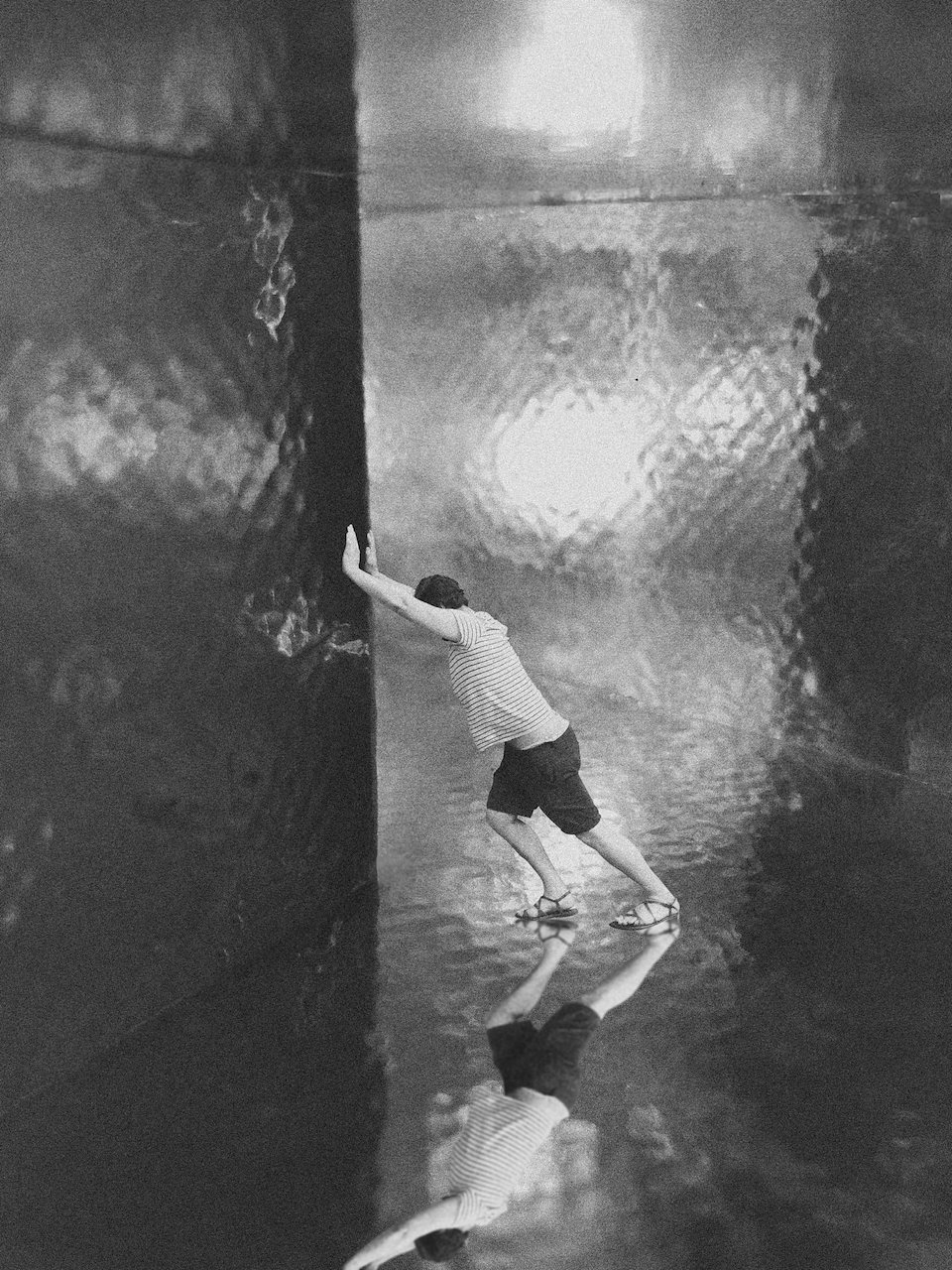 Concept Model – Interior View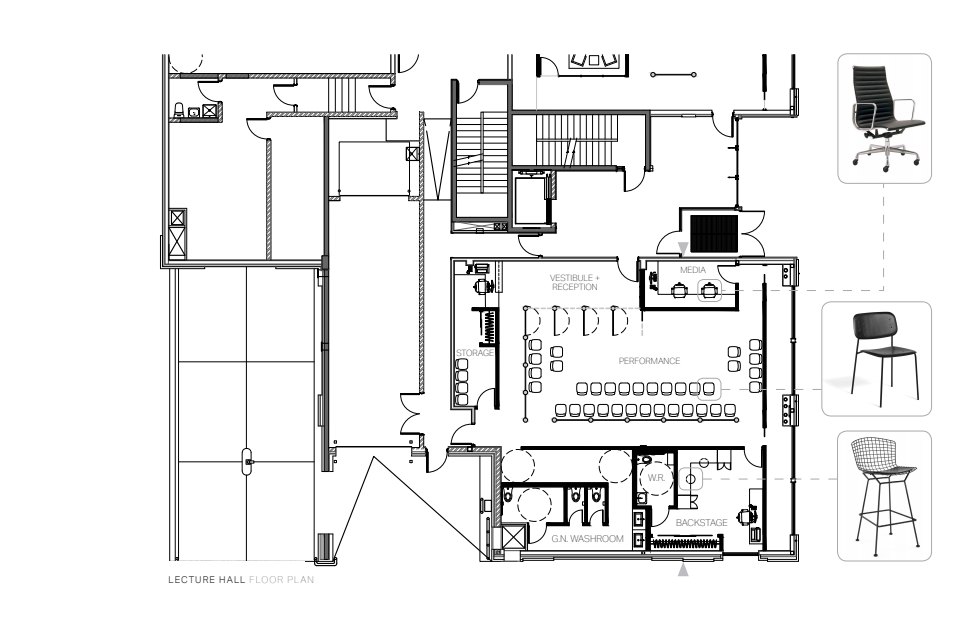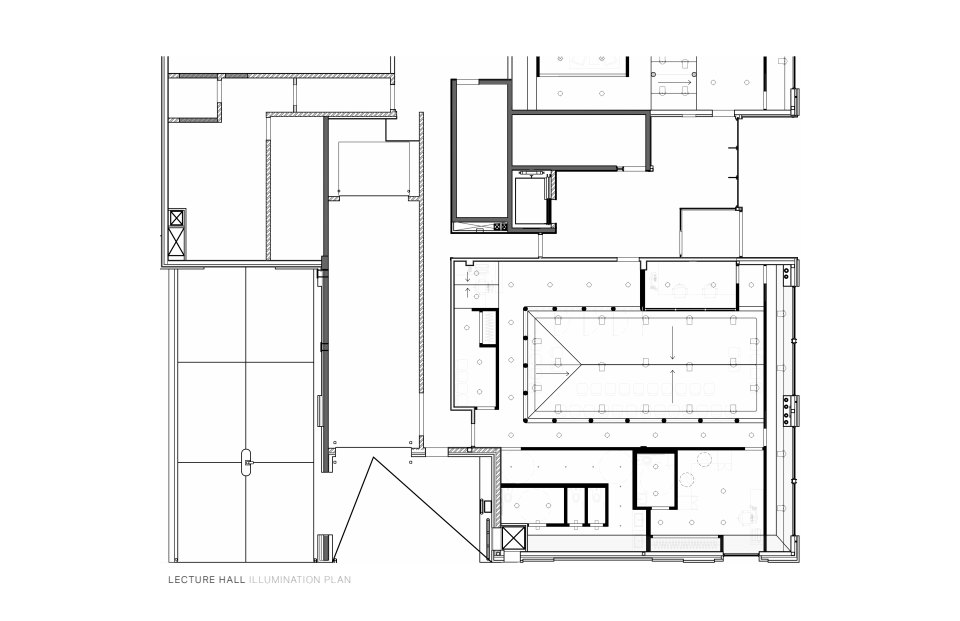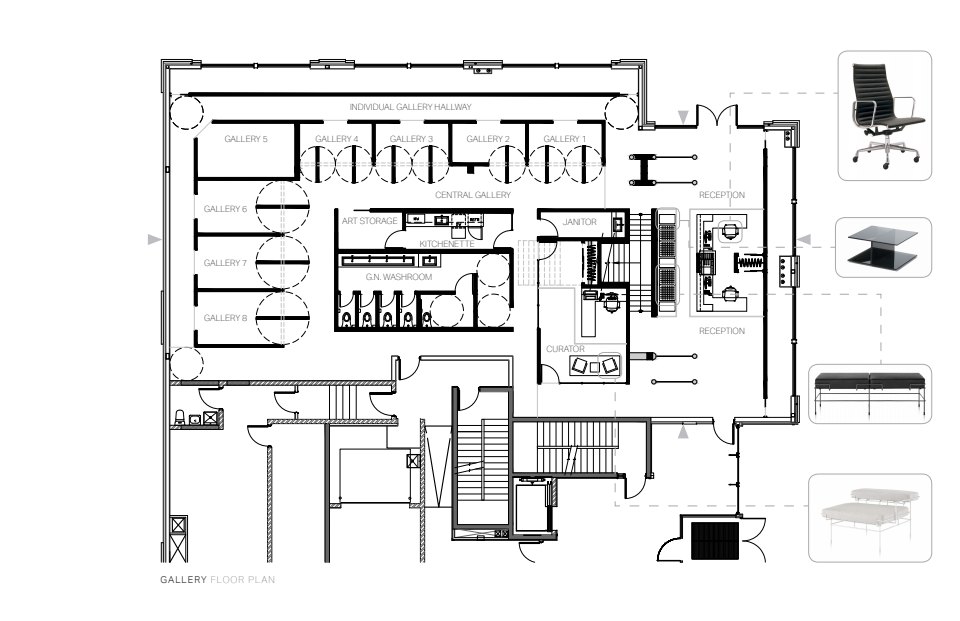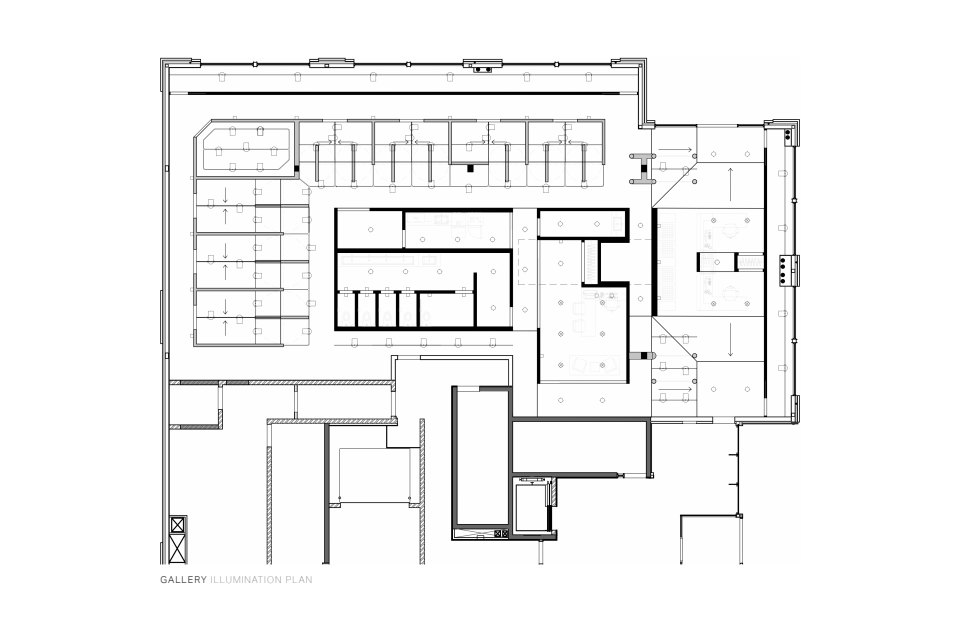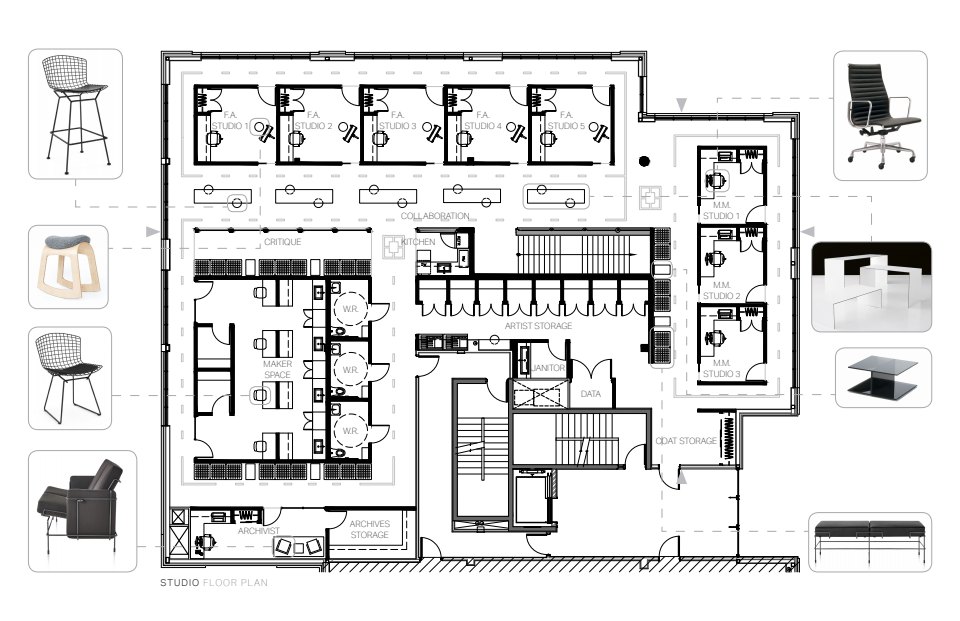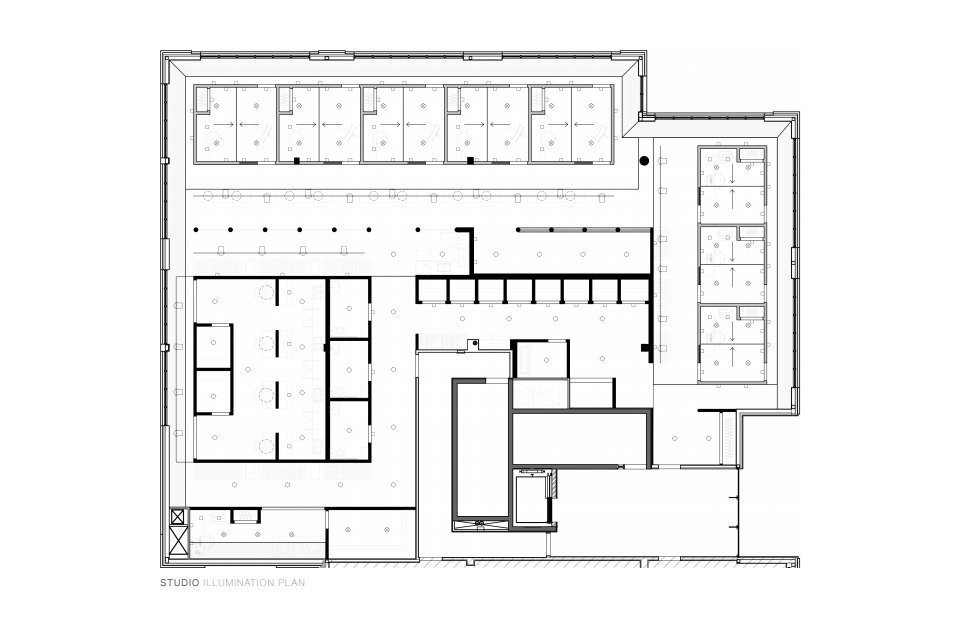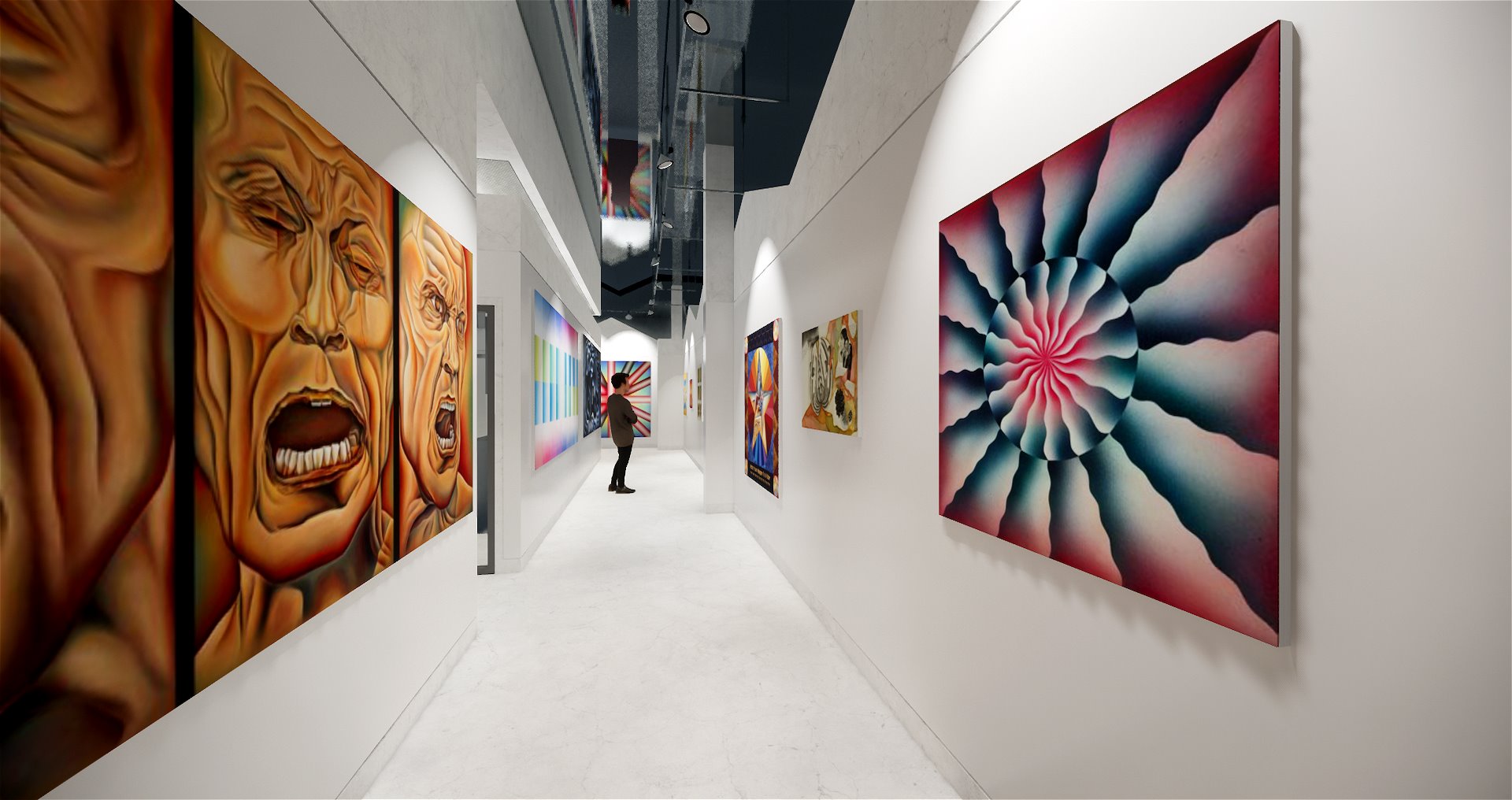 Central Gallery (Featuring the Artwork of Judy Chicago)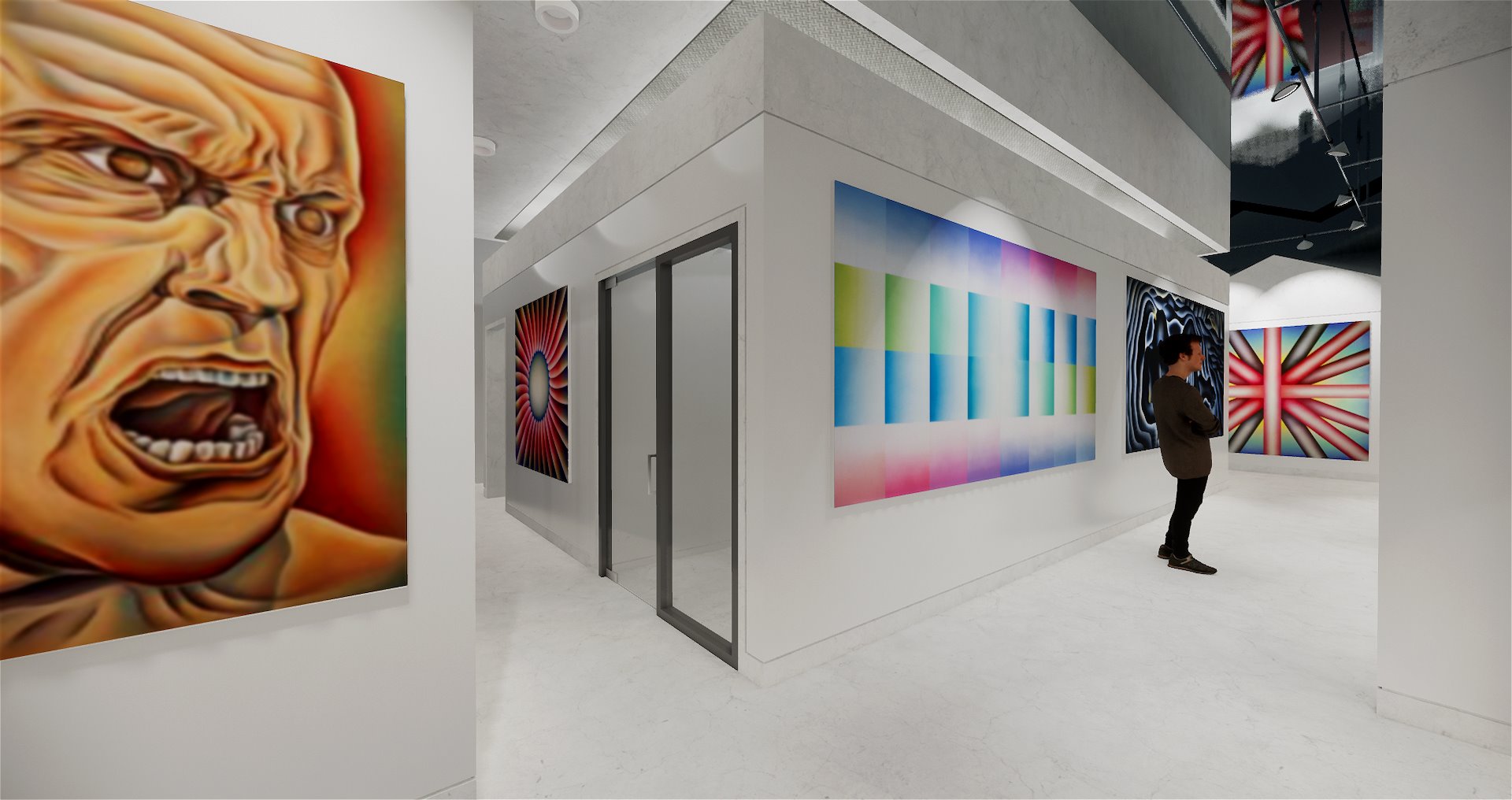 Central Gallery Task Hallway (Featuring the Artwork of Judy Chicago)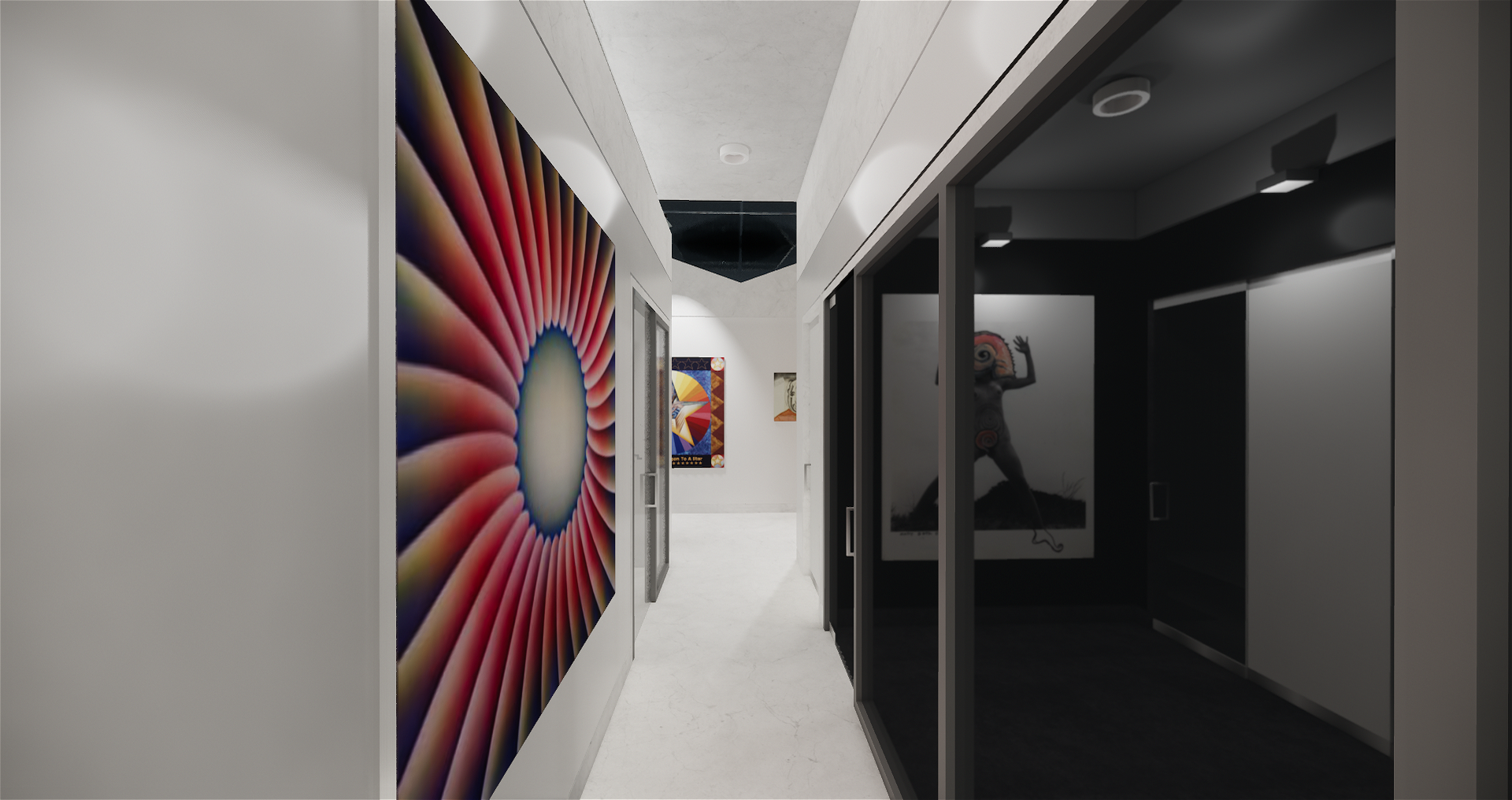 Task Hallway (Featuring the Artwork of Judy Chicago)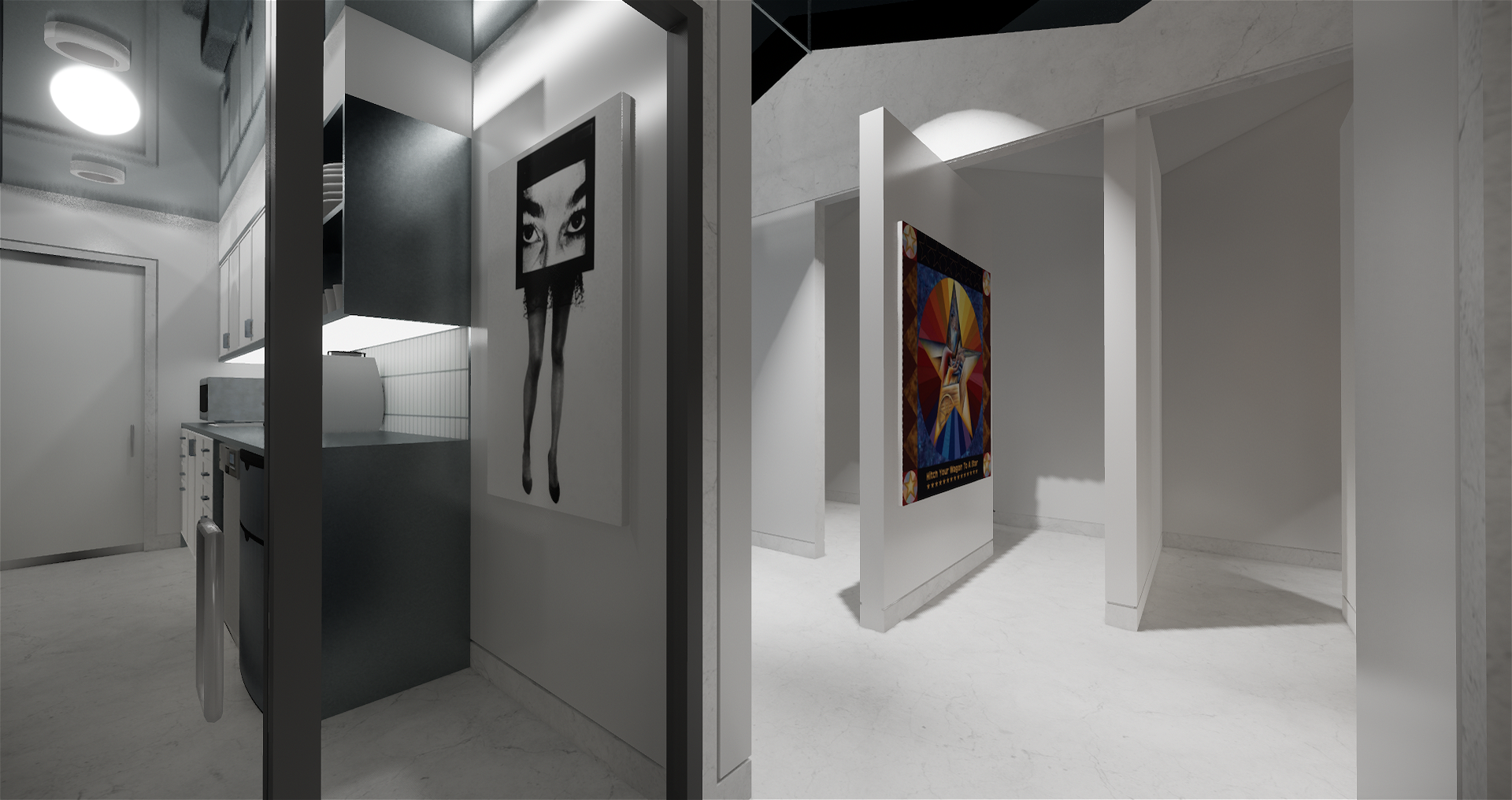 Staff Kitchen + Central Gallery (Featuring the Artwork of Judy Chicago and Lynn Hershman Leeson)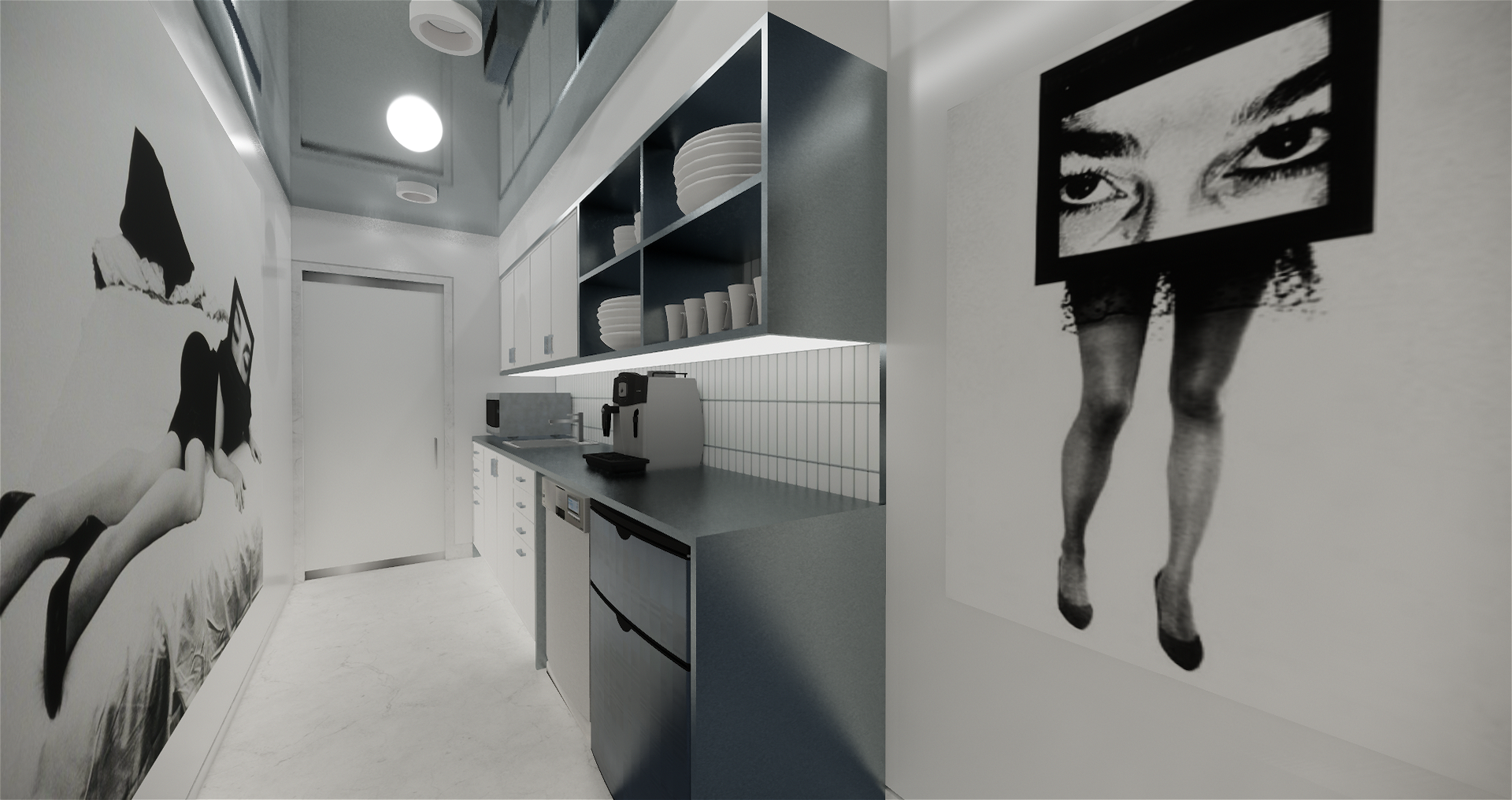 Staff Kitchen (Featuring the Artwork of Lynn Hershman Leeson)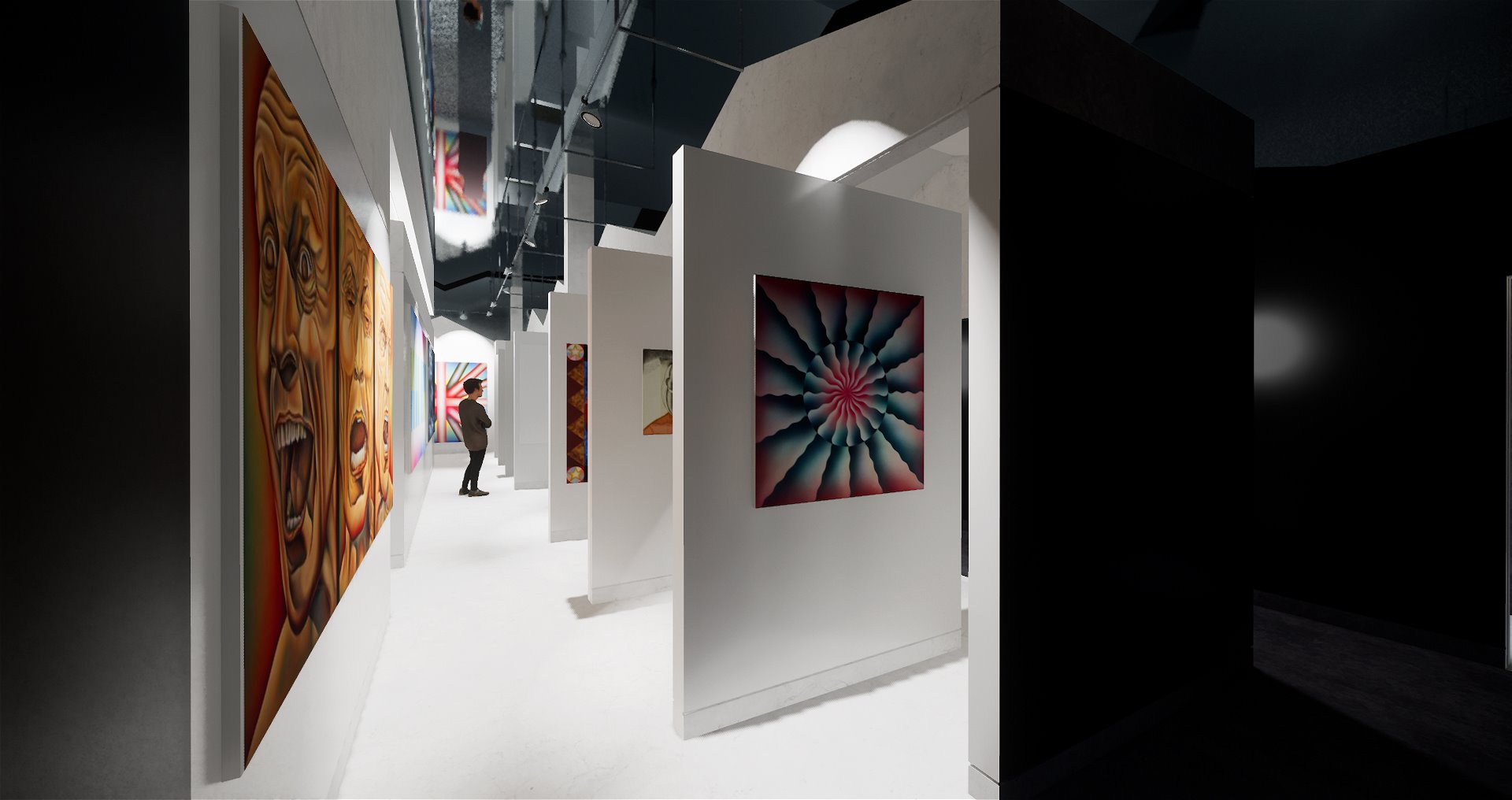 Opened Central Gallery (Featuring the Artwork of Judy Chicago)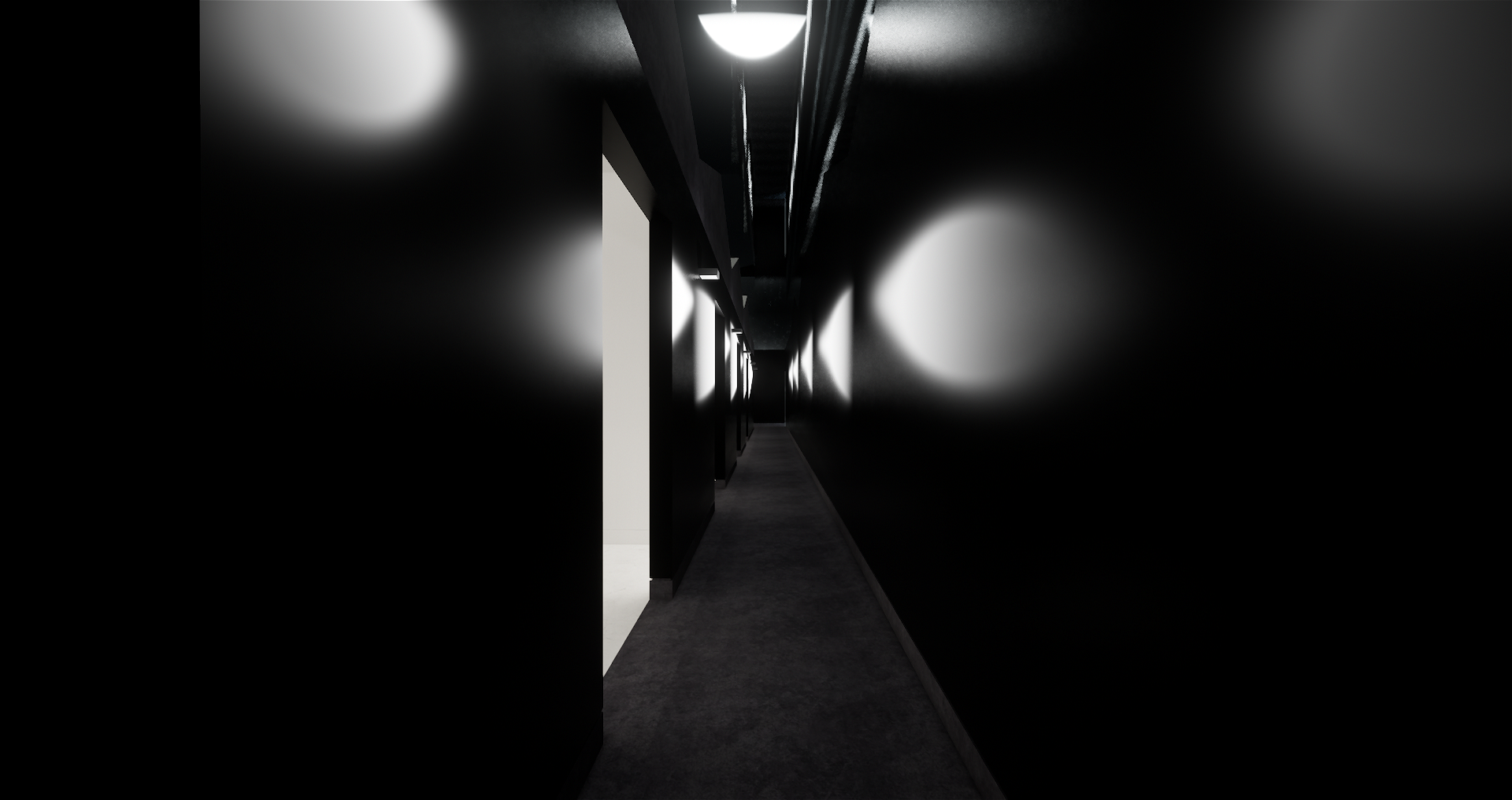 Individual Gallery Hallway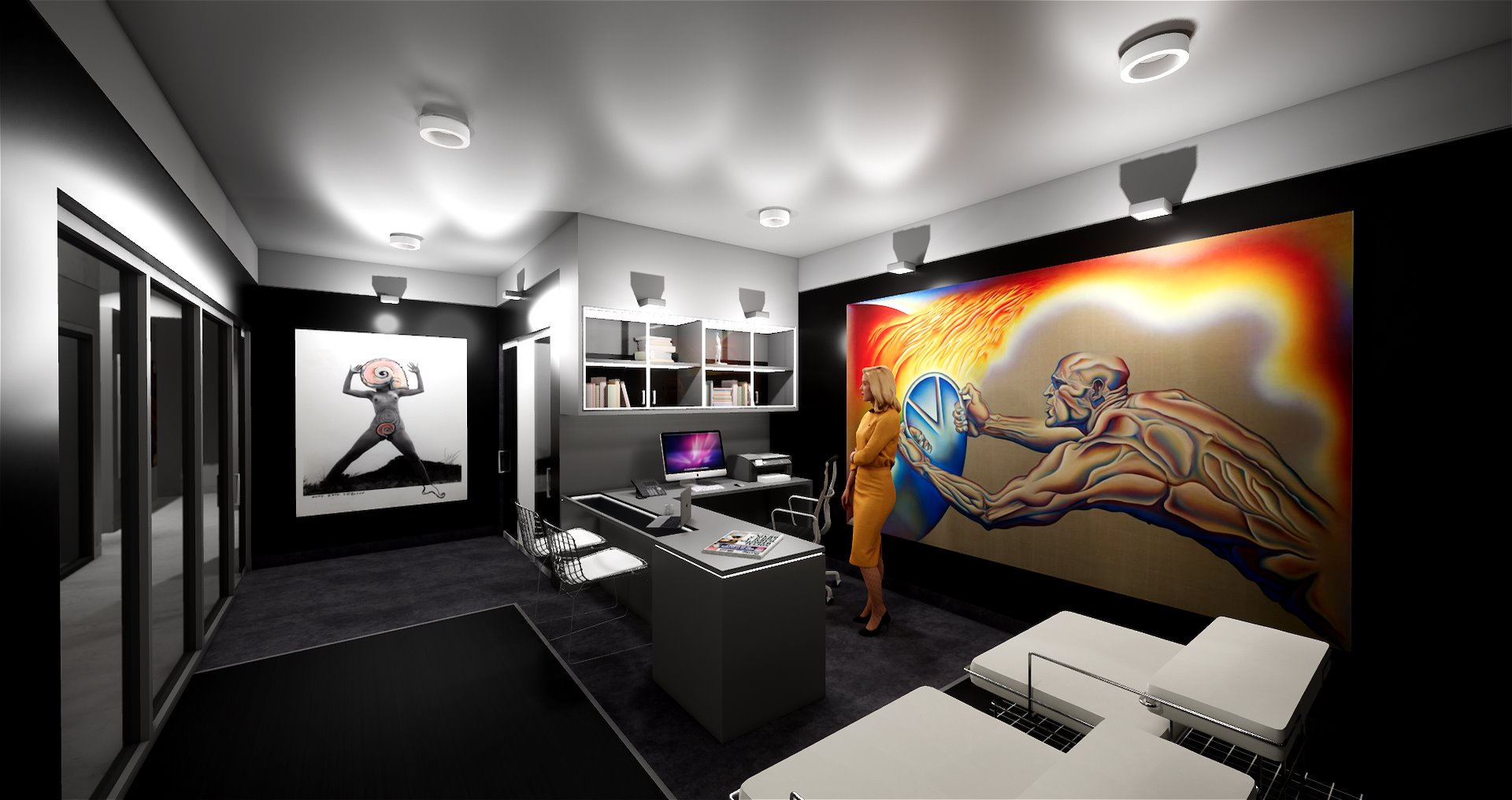 Curator's Office (Featuring the Artwork of Judy Chicago and Mary Beth Edelson)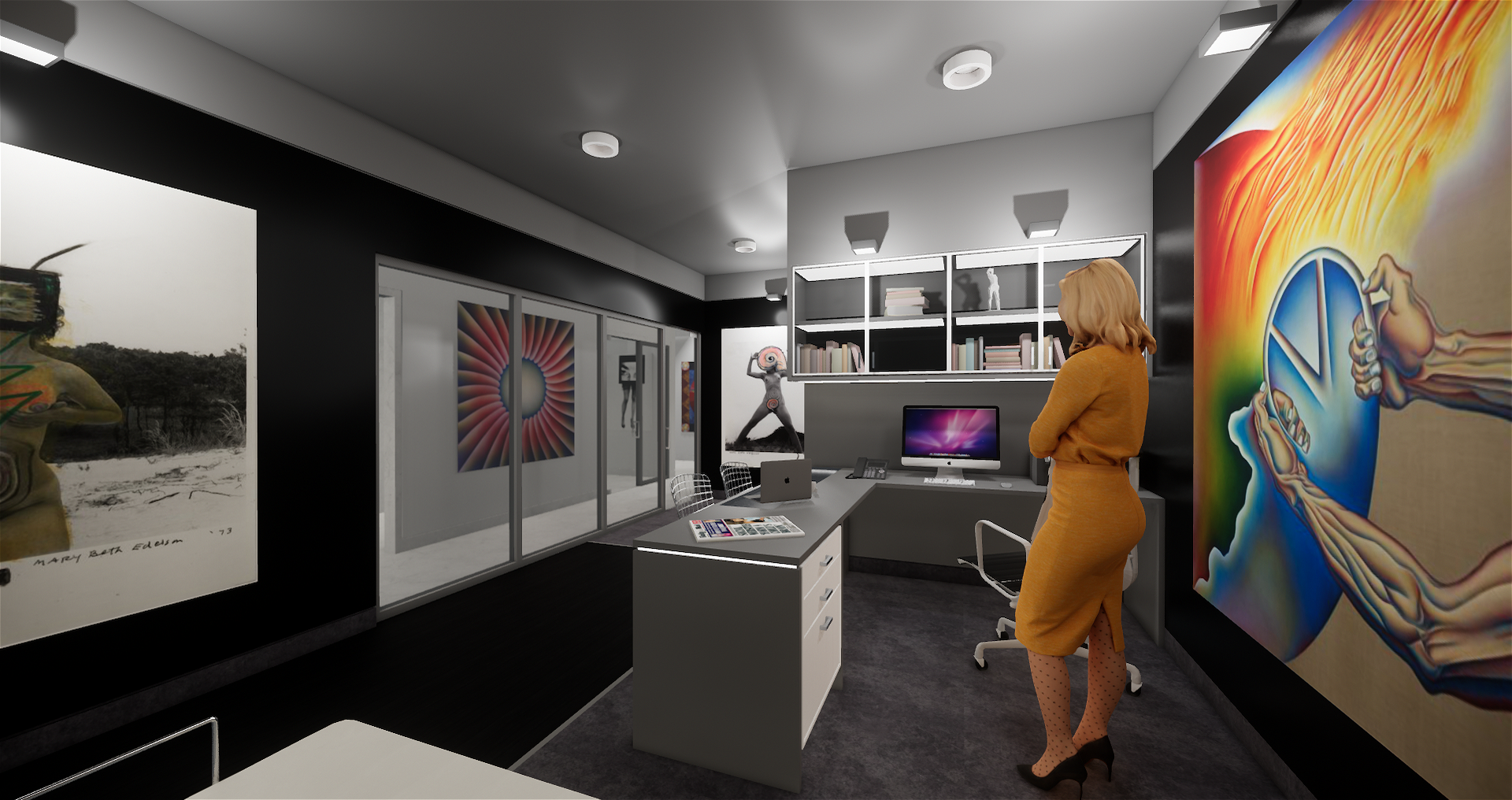 Curator's Office – Northwest View (Featuring the Artwork of Judy Chicago and Mary Beth Edelson)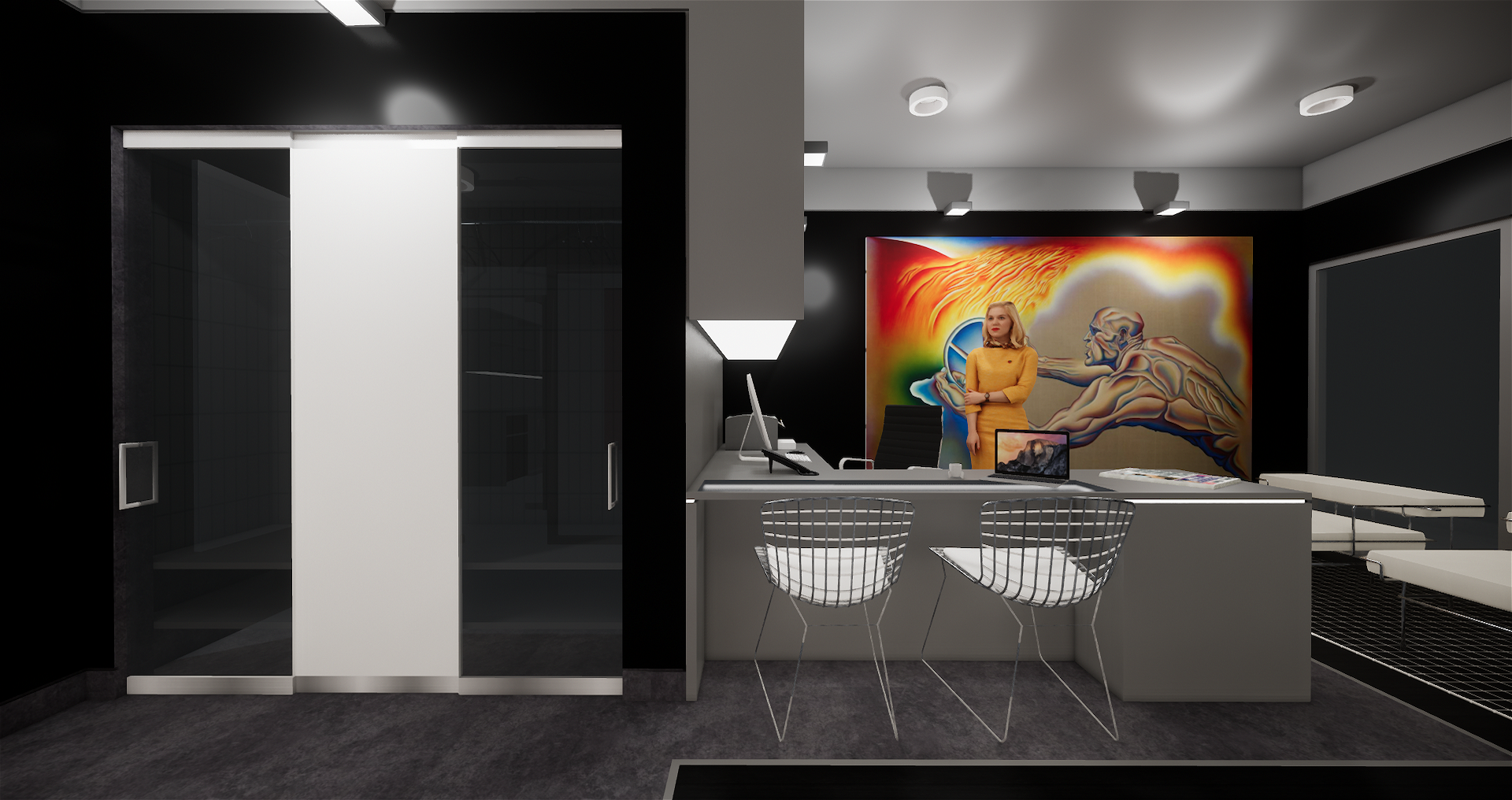 Curator's Office – East View (Featuring the Artwork of Judy Chicago)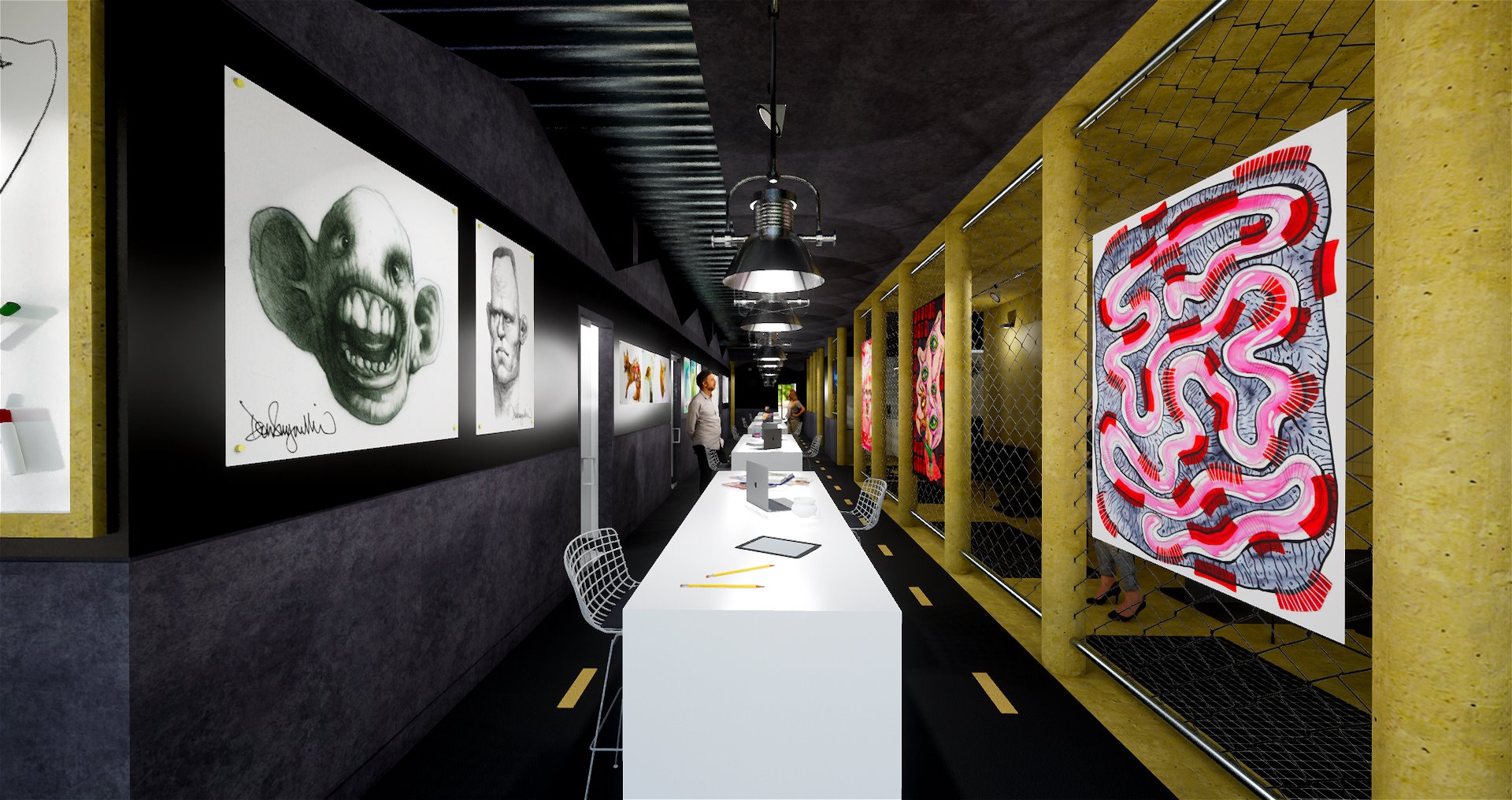 Central Informal Critique Space (Featuring Artwork by Angela Singer, Brian Lewis Saunders, Brittany Maraneta, Myself, and more)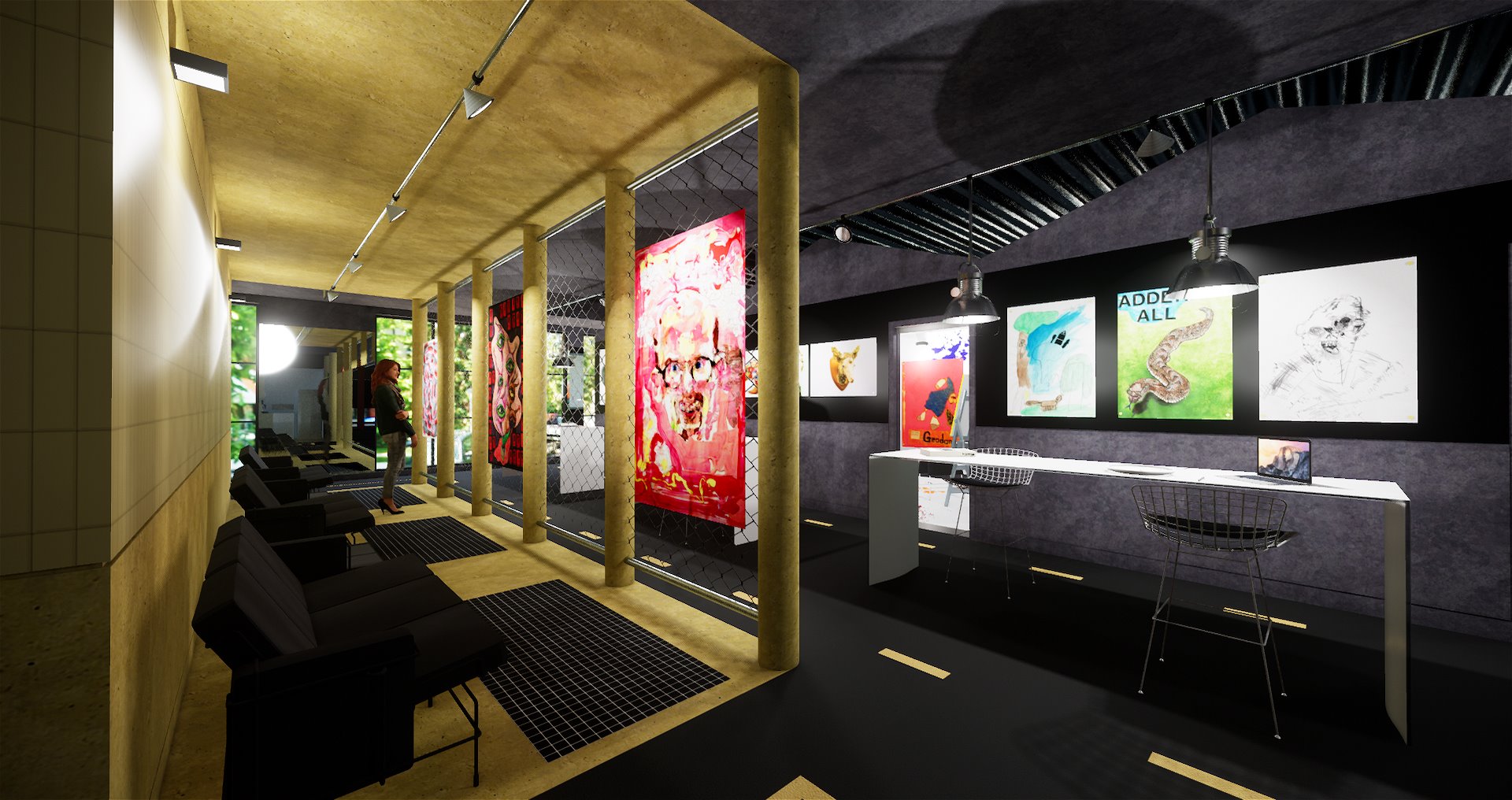 Formal + Informal Critique Spaces (Featuring Artwork by Angela Singer, Brian Lewis Saunders, Brittany Maraneta, Myself, and more)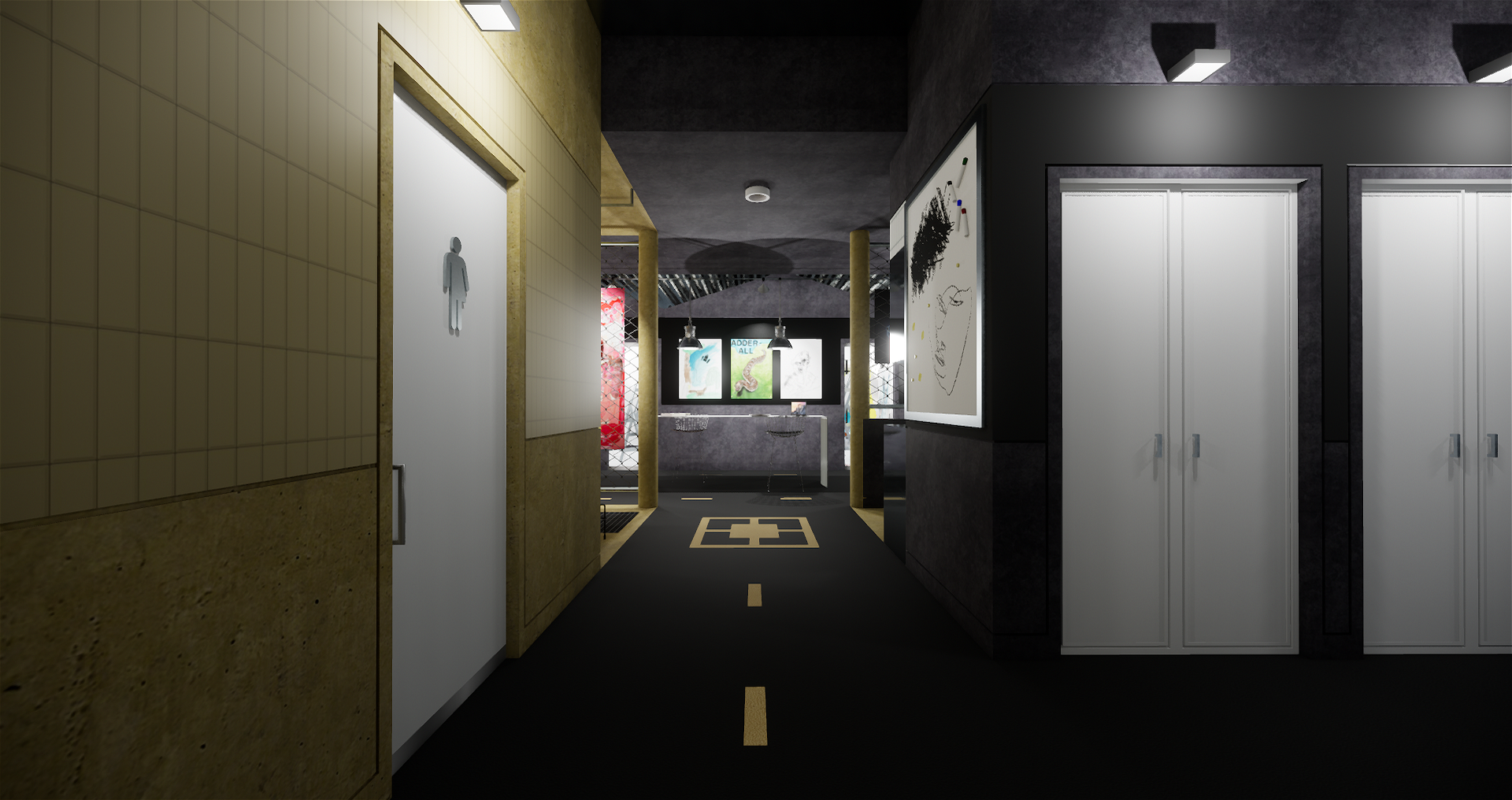 Studio Task Hallway (Featuring the Artwork of Brian Lewis Saunders "DRUGS")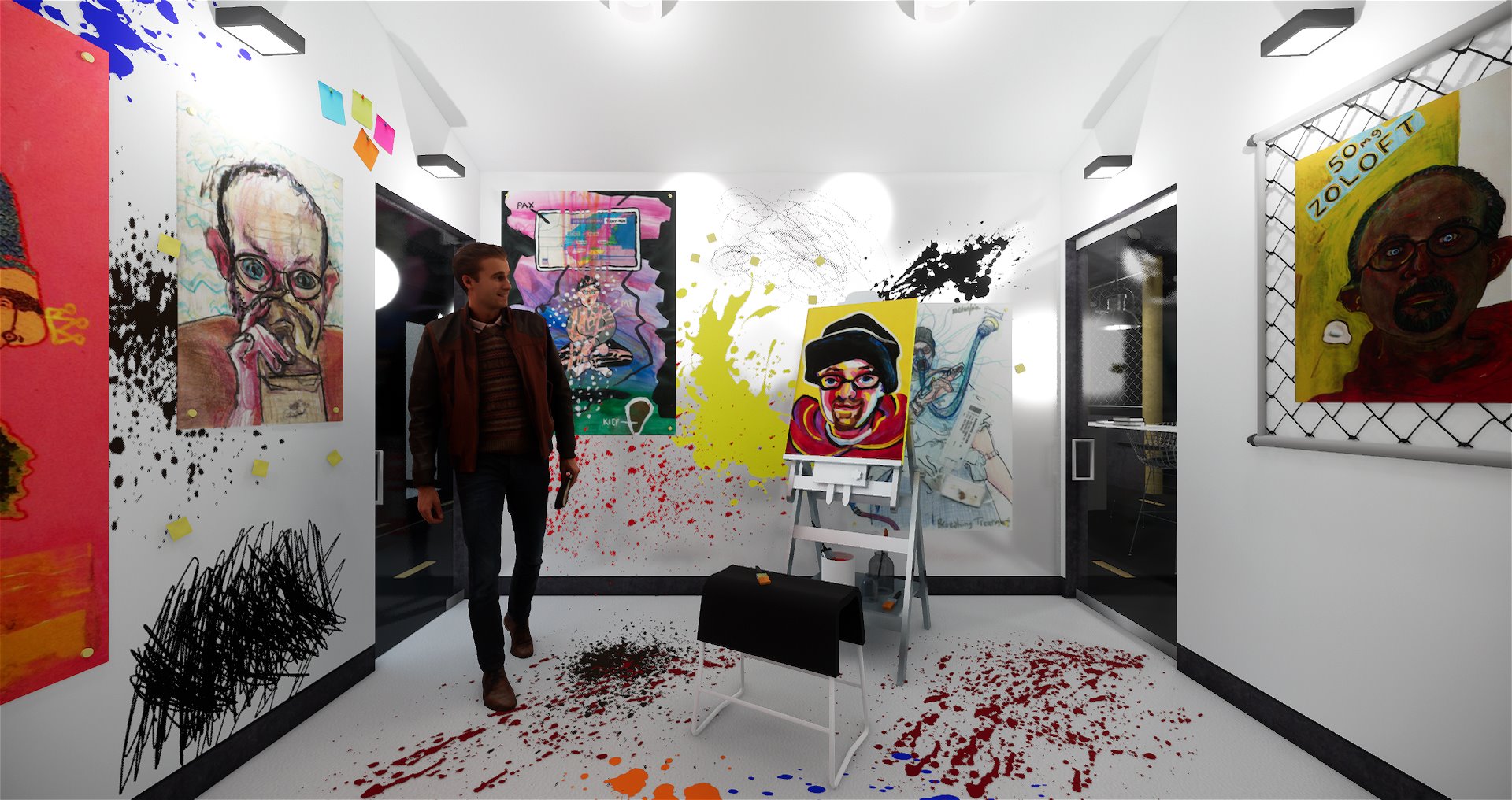 Artist's Studio (Featuring the Artwork of Brian Lewis Saunder's "DRUGS")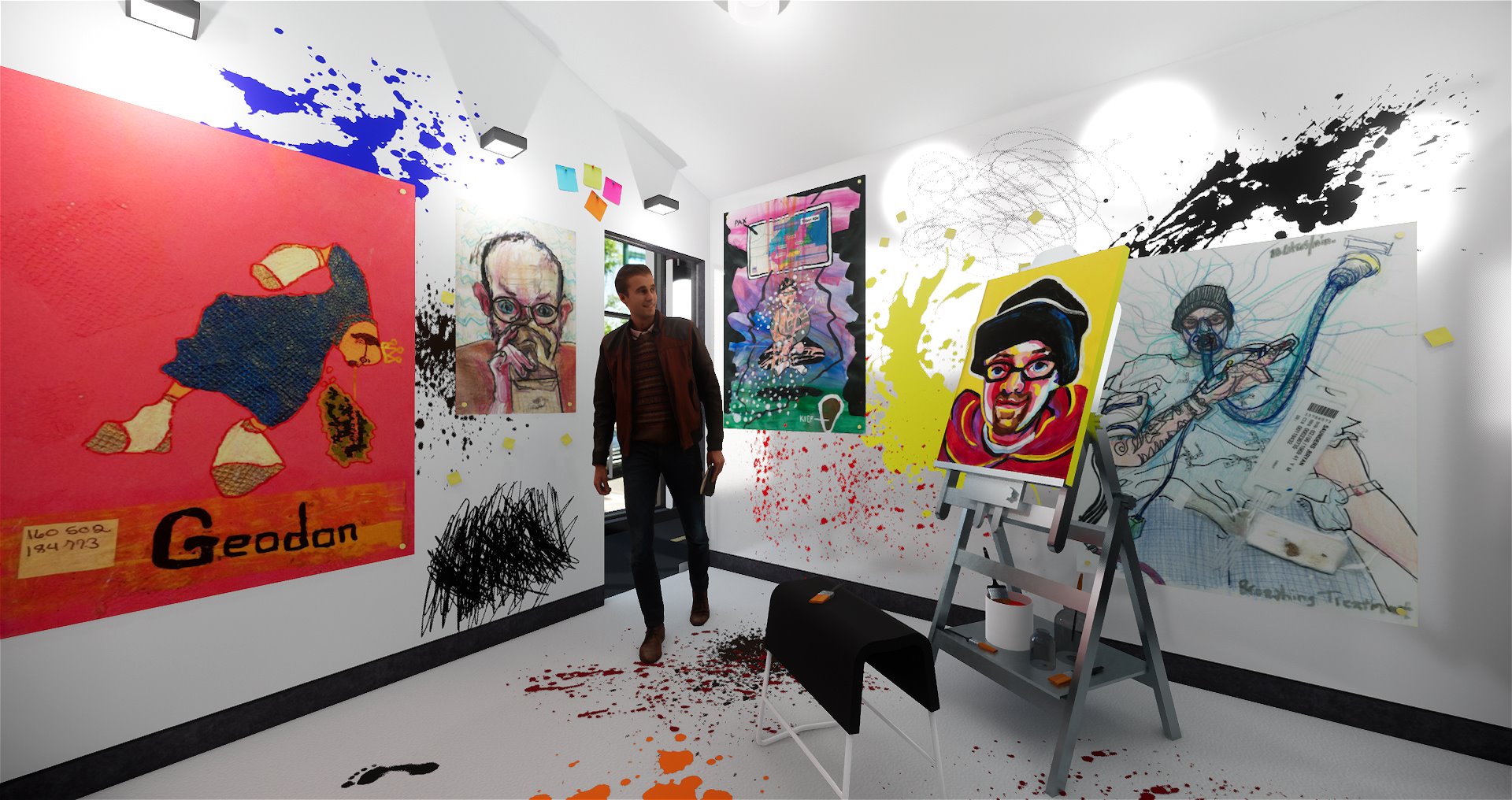 Artist's Studio – Northeast View (Featuring the Artwork of Brian Lewis Saunder's "DRUGS")